October 14 in Yerevan will be an annual celebration, dedicated to the city day – Erebuni-Yerevan, which will turn 2799 years old. This year the slogan of the celebration will be «Yerevan: the city of love». In connection with the tragic events of the April war, this year the same celebrations will be more modest. The concert at the Republic Square, and the parade at the main building of the Yerevan City Hall,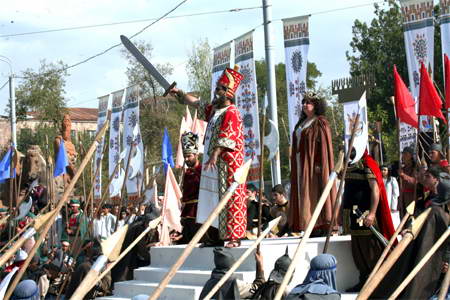 will not take place, since most of the funds will go to help the families of the dead and wounded soldiers. On October 14, various jazz concerts is going to be held in various metropolitan areas, as well as performances of classical and folk music ensembles. In the square of «Khachkars (cross-stone)», near the metro station «Republic Square» will be organized an exhibition entitled «My old and new Yerevan», as well as youth gala concert «my Yerevan». On the territory adjacent to the Swan Lake, the organizers will install photo-pavilions. In the square named after Saryan the artists will draw «Cloth my Yerevan». The work will be transferred to the Yerevan History Museum. At the end of the festive event in honor of «Erebuni-Yerevan 2799» will be fireworks and a youth disco.
«2800-year anniversary of the city will be celebrated luxuriously. Already formed the Commission, working in this direction. The whole year will be a jubilee, for the Armenian people a year will be very important from the point of view of promotion of the city», — said the Deputy mayor of Yerevan Aram Sukiasyan.
Social Share