History of Armenian Cuisine
Cuisine of Armenia is one of the oldest cuisines of Asia and the oldest in Caucasus. Armenian culinary traditions originate from ancient times.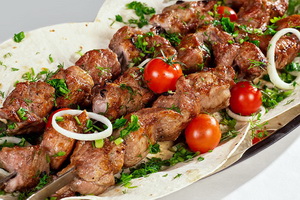 Based on archaeological excavations, scientists have concluded that it is known that Armenians were aware of fermentation processes in bread baking even 2500 years ago. From ancient times originated a popular dish even at the present time khorovats. Dishes of Armenian cuisine distinguished unique tangy flavor and intensity. As a condiment is used pepper,garlic,cumin,various spicy greens. It is estimated that for preparation of dishes, Armenian cuisine uses about 300 species of wild grasses and flowers, which are used as condiments or even a main dish. A special place in Armenian cuisine belongs to fish dishes, including trout, sturgeon or whitefish. Armenia is very popular with its wine cellars and of course with Armenian cognac. Archaeologists managed to dig up the oldest of the wineries in one of the caves in Armenia, near the village Areni, proving that people distilled grapes already in the distant Bronze age, more than 6.000  years ago. A distinctive kind of noodles is made of flour, which is called arishta, and porridge with chicken meat is made of wheat grouts. Besides the lavash, from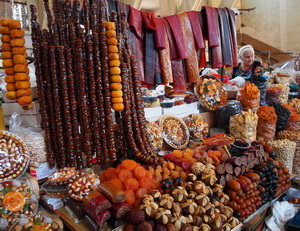 flour biscuits are made. The most popular of these are- a round sweet cake with crispy flour and pakhlava stuffed with nut and of cours alanine– dried peaches stuffed with peanut seeds instead of the remote crumbs. Also sweet sudzhukh– mulberry or grape mixture stuffed with walnuts is popular in Armenia. Armenia is also famous with its ecologically pure fruits. It is a peach as sweet as honey, fig tree, and pomegranate and of course Armenian apricot as hot as Sun.
Specialty of Armenian Cuisine
Specialty of Armenian cuisine is that there are no fats used. The majority of dishes are cooked in drawn butter. It is used for soups, stewing and roasting of meats, poultry, fish and vegetables, as well as sweet dishes. Vegetable oils are used in Armenian cuisine less frequently- for preparation of fish and some vegetable dishes. Finally, another feature of the Armenian cuisine – tasty snacks and a nourishing soup.
HERE ARE THE SHORT DESCRIPTION OF ARMENIAN TYPICAL DISHES
Harisa – porridge made of wheat and sodden fibered chicken
Basturma – dried beef in spicy covering (caraway, garlic, red pepper)
Dolma (or tolma) – ground meet wrapped in grape leafs
Qufta – tender meat balls made of stewed beef
Lavash – national unleavened wheat bread (included in the UNESCO Intangible Cultural Heritage List )
Zhengyalov Hats – a baking stuffed with greens, typical for Republic of Nagorno Karabagh
Lahmajo – patties with ground meat, tomato sauce and pepper
Spas – soup made of tan (yogurt) and wheat
Sujukh – thin dried sausage
Ghaurma – boiled and fried meat, covered with butter
Khash – national soup made of macerated beef shins
Khashlama – boiled beef in broth
Khorovats – barbeque
Vegetable Khorovats.
Armenian wines and brandy
Armenia is known as the motherland of viticulture and winemaking. The legend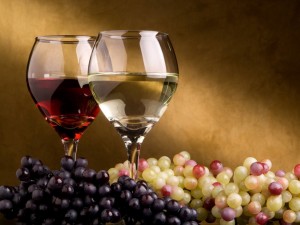 tells that Noah planted the first vineyard in the plateau of Ararat. Burning sun, rich land and the hard work of the peasant have given Armenian wine its unique taste and odor. Ancient wine vessels, sometimes with condensed antic wine, are found in many historical places. The programs, which include wine testing, are very popular. The tourists who pass through Vayots Dzor region always taste the different bouquet of wines in small wineries. Wine is the part of the national lifestyle, and traditional dishes are not complete without wine, drunk to beautiful and traditional toasts of Tamada (Toastmaker).This region is famous for its red wine, especially "Areni".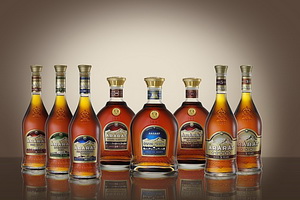 This wine is made of the relict vineyards the history of which goes to1000BC. They are really unique, and tasting once you will test them again and again. Armenia's enterprises produce over a dozen brands of brandies which according to the unanimous opinion of expert tasters are in no way inferior to the world-famous French ones. Many of their labels show the gold medals awarded at international exhibitions. The history of Armenian brandy starts from the vineyards of the Shustovs from the beginning of XIX century.
Mineral waters
According to a legend, after adopting Christianity as a state religion, the relics of the saints were transported to Armenia and in the places where the ceremony stopped, the springs of mineral water burst out. Dozens and dozens of unique fresh-water and mineral springs of various physic-chemical compositions are found in different parts of this sacred land. Stone baths, dating from the1st century, were discovered almost in all regions of Armenia.
Social Share