The territory of the Republic of Armenia is composed of ten marzes (Armenian regions) and Yerevan city which is governed by the law on local self-government in the city of Yerevan.
Aragatsotn

Area: 2737 km 2
Population: 168100
Administrative Center: Ashtarak
Distance from Yerevan to Ashtarak: 20 km
The region of Aragatsotn encompasses the alluring Mount Aragats, and its picturesque foothills. The spiritual subject of many Armenian writers and painters, Mount Aragats…
Ararat
Area: 1995 km 2
Population: 311400
Administrative Center: Artashat
Distance from Yerevan to Artashat: 29 km
The impressive panorama of Mt. Ararat, its inaccessible height, and deep abysses has had a great influence on Armenians and become an object of cult…
Armavir
Area: 1251 km 2
Population: 323300
Administrative Center: Armavir
Distance from Yerevan to Armavir: 48 km
Between the four-peaked mountain of Aragats and the biblical Mount Ararat, Armenia's national symbol of remembrance and hope, lie the fertile lowlands of the Armavir…
Gegharkunik
Area: 4058 km 2
Population: 278600
Administrative Center: Gavar
Distance from Yerevan to Gavar: 98 km
Studded with mountains and the sun-kissed shores of Lake Sevan, Gegharkunik is enticing with a rich palette of history, culture and natural beauty….
Kotayk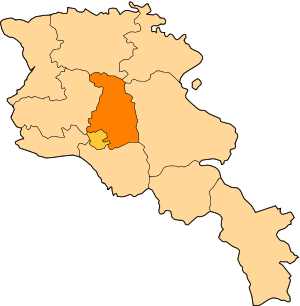 Area: 2038 km 2
Population: 328900
Administrative Center: Hrazdan
Distance from Yerevan to Hrazdan: 50 km
The Kotayk Region boasts some of the most astounding nature in Armenia, replete with scenic beauty and fabled monuments….
Lori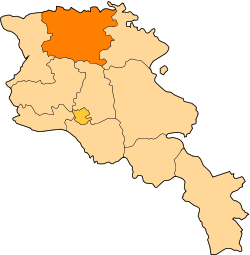 Area: 3750 km 2
Population: 392300
Administrative Center: Vanadzor
Distance from Yerevan to Vanadzor: 125 km
Lori (Gugark in ancient times) is the northern region of Armenia, where the imposing mountain ranges of the Caucasus interlace with the maze of rivers…
Shirak

Area: 2643 km 2
Population: 361400
Administrative Center: Gyumri
Distance from Yerevan to Gyumri: 155 km
The Shirak region, located in Armenia's northwest corner, includes the nation's second largest city, Gyumri….
Syunik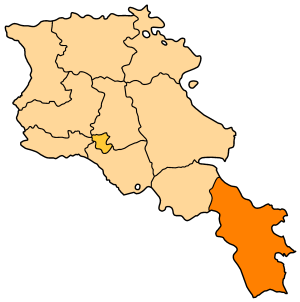 Area: 4475 km 2
Population: 164000
Administrative Center: Kapan
Distance from Yerevan to Kapan: 316 km
The Syunik region is stunning: a mosaic of lofty mountains, lush green valleys, raging rivers, deep rocks and jagged canyons. Also known as Zangezur….
Tavoush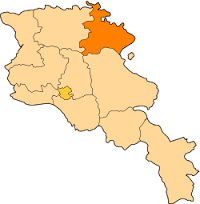 Area: 2695 km 2
Population: 156500
Administrative Center: Ijevan
Distance from Yerevan to Ijevan: 137 km
Words alone cannot express the natural beauty of the Tavush Region. The rocky hillsides and flat peaks shrouded in the dense forests of the region…
Vayots Dzor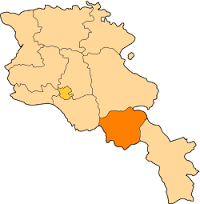 Area: 2308 km 2
Population: 69400
Administrative Center: Yeghegnadzor
Distance from Yerevan to Yeghegnadzor: 119 km
Vayots Dzor is a wild assemblage of small lakes, narrow gorges, lush vineyards, rough and jagged slopes, bucolic pastures, and noisy rivers….
Social Share