Our useful information will help you during your travel to Armenia. Yerevan rightfully belongs to the category of safest cities in the world. At night, walking around the city is much safer than in the daytime in the European cities.The absence of crime, suggests that all criminals here for a long time in jail. However, crime does exist here in the smallest sizes. But Yerevan authorities carry out their duties capable and visiting tourists, and indigenous townspeople feel on the streets in complete safety.You can easily navigate the city. Thanks to the small distances and the compactness of the city, you can easily plan a walk. If you lose your benchmark, you can ask about his future in the way of any passerby, and be sure you will be happy to try to help.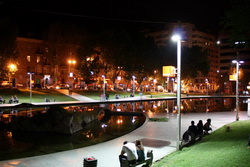 The status of the national language in Armenia assigned to the Armenian language. Of the foreign languages, the Russian language is understood by all, and young people in Yerevan are fluent in English and French. Older people speak English in rare exceptions.AMD is the national currency of Armenia. All trades in shops, markets and other points made by AMD. However, in exceptional cases, if you ask dollars, euros or rubles as a means of payment, then you may take the currency, after having considere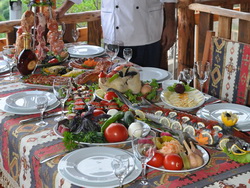 d the current rate. Currency exchange is carried out without restrictions and at almost every turn in the specialized exchange offices, banks and shops.Many cozy cafés and restaurants are always ready to offer its visitors a delicious meal. They are located very close to the city streets, and are able to please the guest variety of dishes almost every world cuisine. The cost of food varies depending on the status of the restaurant, but dinner at a nice restaurant Yerevan still cost yo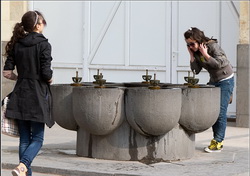 u much cheaper than a similar meal in a European city. On the "tea" usually leave 10% of the total bill.Drinking water from the Armenian producers sold in almost every store. But the water supplied to the city water is absolutely harmless and even tasty to drink it, you can open the tap anywhere. Yerevan hospitably offers visitors crystal clear and delicious water from a source called "pulpulak". From a small, a meter high fountain, has a pure stream, drink the water, from which you can for free.
Social Share